Job Vacancies at KaurMaxwell
We are a growing boutique law firm based in London at The Old Bailey. We offer a range of legal services to businesses and individuals. We are an inclusive employer, and we take great pride in welcoming employees from a wide range of backgrounds and cultures.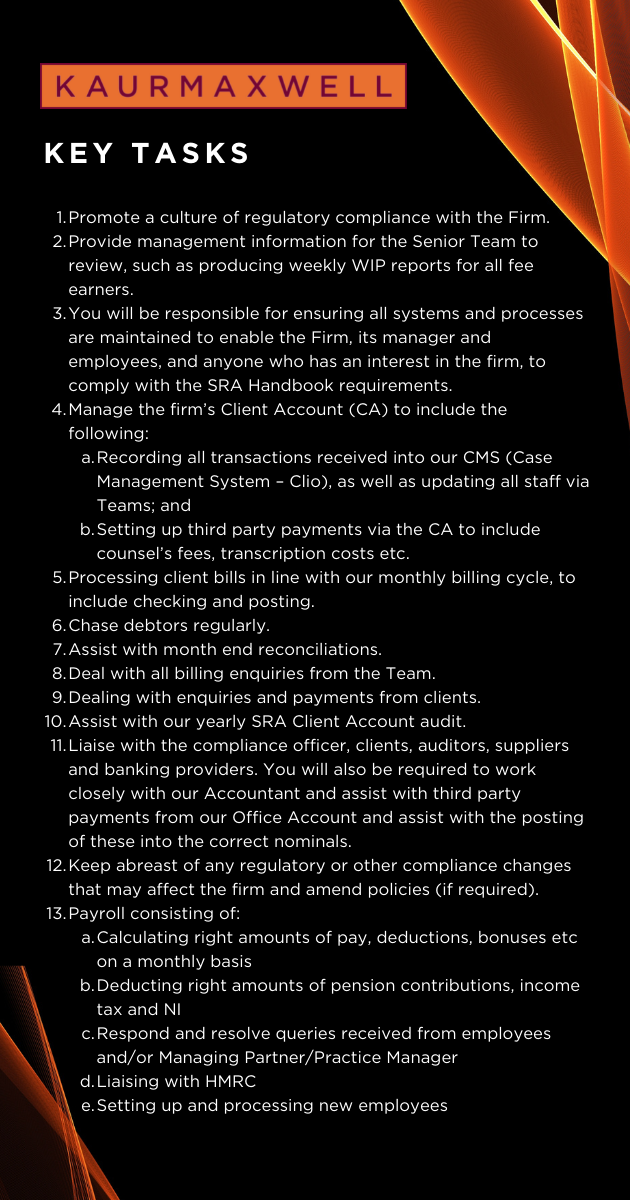 Legal Cashier
ROLE
We are looking for an experienced Legal Cashier who will be working within a small team dealing with the day to day client and office transactions, banking and billing.
Your key tasks are listed opposite, but are not an exhaustive list and should be used as a guide, please tell us about your experience
Desirable Skills
• Up to date knowledge of the Solicitors Accounts Rules 2019
• Ideal candidate would be ILFM qualified at Diploma level and/or AAT Level 2/3 qualified
• An interest and understanding of how the legal system works
• Good written and spoken communication skills
• Good time management and solid IT skills
• Experience working on a CMS (but not essential as full training will be given)
Personal Attributes
• Attention to detail
• Enthusiastic
• Use own initiative
• Must be able to work as part of a team
Contracted Hours: Part-time(or full-time for the right candidate)
Working Conditions:Flexible but will include regular visits to London EC4M
Department: Accounts Department
Salary: Competitive
The purpose of this job description is to outline levels of responsibility and accountability of this post, to ensure that all work undertaken by our employees is identified and lines of accountability are clear.
Disclaimer
It is the responsibility of all employees to adhere to general policies and procedures as detailed in the Employee Handbook and other individual policies.
The above job description does not purport to be an exhaustive list of duties and responsibilities. The post holder will be expected to undertake additional duties as the requirements of the post change to meet the needs of the business